Vincent van Gogh Artist Study and Activities
The works of Vincent van Gogh are some of the best-known paintings in the art world. Starry Night and Sunflowers, for example, can be found everywhere from items in gift shops to picture books and children's projects.
*Affiliate links may be present on this page. Please see the disclosure for details.
What is fascinating, however, is his sheer range. How could the man who painted The Potato Eaters have also created Field with Poppies just a few years later?
Vincent van Gogh
Vincent Willem van Gogh was born in the Netherlands in 1853, the son of a Dutch Reformed pastor. He had a deep faith and an ambition to be a pastor himself, but was not successful in keeping a pastorate due to his temperament.
He tried several different vocations, including serving as a clerk in an art gallery. This was his first real introduction to the business side of art, and he found he loved it. He spent the next several years teaching himself to draw and paint. Occasionally, he was able to study formally with an accomplished artist, but much of his training was done on his own.
What's So Great About Van Gogh?: A Guide to Vincent Van Gogh Just For Kids!
Vincent Van Gogh for Kids: Vincent Van Gogh Biography for Kids (Biographies of Famous People) (Volume 6)
Van Gogh For Kids (Great Art for Kids Series)
He first studied the work of Dutch and Flemish masters, such as Rembrandt and Rubens. Van Gogh spent hours upon hours sketching, reading, observing, and refining his skills. Eventually, he felt he was ready to exhibit and sell.
His first major painting, The Potato Eaters, shows the influence of Rembrandt on his art. The background is dark, but the faces are lit and show a lot of emotion. He said that his goal was to show that the same hands that had dug the potatoes from the earth earlier that day were now reaching for them at the table.
You can learn even more about van Gogh with the set of notebooking pages I've designed! They go perfectly with this study.
Van Gogh's Journey
He had varying degrees of success during his life, and this was troubling to him. He always strove to learn from others. His journey eventually took him to Paris, where he came in contact with Impressionists such as Monet and Degas. He did not necessarily like their work, but he learned from their new methods.
Vincent van Gogh (In the Picture with)
Getting To Know Vincent Van Gogh (Artist Book & DVD Set) (Getting To Know The World's Greatest Artists)
Vincent Van Gogh Starry Night Famous Paintings Postcards (30 Pack) – Starry Night Sunflowers Famous Paintings Postcards – Collectible Vintage Art Gifts – Premium Quality – Best Stocking Stuffers
His willingness to learn and experiment is obvious in his works; he did not tie himself to any one style, but painted what he felt. Unfortunately, he let his work become an obsession, and this obsession apparently affected both his physical and mental health. Toward the end of his career, he had a breakdown and admitted himself to an asylum. At the age of 37, he sadly took his own life.
These hardships, however, did not affect his ability to create. If anything, his art was the main source of light and joy in his life. Much of his art is deeply personal, showing both control and chaos. More than anything, though, it also shows the beauty that he longed to portray.
"What I draw, I see clearly. In these [drawings] I can talk with enthusiasm. I have found a voice."
Van Gogh's Classic Works
As van Gogh spent his early career studying the classic works of the masters, he learned to imitate their methods. He enjoyed the play of light and darkness that he found in Rembrandt and Rubens, and he was quite skilled at painting portraits.
This is a skill he kept during his career, moving back and forth between Impressionistic and classic techniques.
Impressionism and Post-Impressionism
When van Gogh reached Paris, he did everything he could to take in new experiences. In becoming part of the "art scene," he came in contact with Impressionists such as Monet and Degas, but also with artists such as Seurat and Toulouse-Lautrec. These artists are part of the movement known as Neo-Impressionism or Post-Impressionism.
Vincent Can't Sleep: Van Gogh Paints the Night Sky
van Gogh and the Sunflowers (Anholt's Artists Books For Children)
Coloring Book Vincent Van Gogh (Prestel Coloring Books)
Van Gogh and the Post-Impressionists for Kids: Their Lives and Ideas, 21 Activities (For Kids series)
Van Gogh did not think much of Impressionist art, but he did appreciate aspects of it. He experimented with the quick, unfinished brush strokes and combined them with other techniques such as impasto and pointillism.
What resulted was a huge collection of works – over 900 of them – over a span of 10 years. Each of these works shows different combinations of the styles and methods he experimented with.
If you're interested in learning even more about van Gogh, you might enjoy the Online Unit Study from Techie Homeschool Mom! It's filled with fun, online activities and is ready for your kids to dive right in.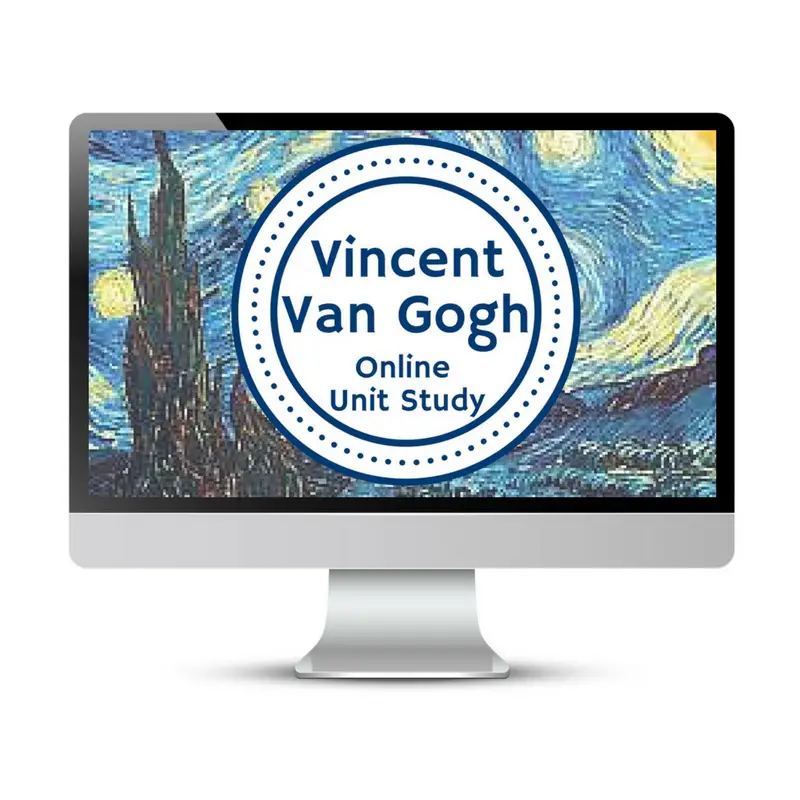 Timeline Activities
Be sure to record Vincent van Gogh on your timeline. If you haven't yet purchased your 14-page Timeline of the Arts, you can get a copy here!
Van Gogh lived from 1853 to 1890. Although he did not live a long life, he did live through some incredible events!
Countries around the world were changing rapidly, and colonies were being formed in Asia and Africa. France, where van Gogh painted many of his works, formed a large colony that included Vietnam, Cambodia, and Laos (French Indochina) during his lifetime. Van Gogh was influenced by Asian art techniques; these would have been easier to come by in Europe when these colonies were formed.
Hands-On Activity: Make an Impasto Print!
One of the techniques that van Gogh used is impasto, which means that the paint is applied in thick layers or "smudges" rather than fine overlays. This creates movement, texture, and different layers of colors. Sometimes, impasto artists even mix the paints right on the canvas!
For today's project, you can use watercolor paper, but a canvas will work much better. Because the paint will be applied pretty thickly, you want to have a sturdy base.
Before you start, decide what it is you would like to paint. Try to pick a subject that moves or makes you feel something. This will come through especially well with the impasto!
Next, quickly sketch out what you want to paint. Think of where you would like different elements. This should be a quick study to use while you're painting.
Acrylic paints in a tube work best for this project; you can easily find these at Amazon or a craft store. You don't want to use paints that are too liquid-y, as they won't give you the right texture. Oil paints can be used, but they are more difficult to work with and take a lot longer to dry.
Then, just start painting! Using a larger brush or a palette knife, scoop up thick "blotches" of paint and use quick brush strokes to put them on your canvas. Don't worry about getting things perfect – that's not the point of impasto! Rather, you want to focus on letting your audience see the motion and feel the feelings that you see.
When you're done, set your painting aside and let it dry. Because the paint is thick, this will take a while, perhaps even a few days. Once it's dry, though, you'll have your own impasto masterpiece!
Vincent, Theo and the Fox: A mischievous adventure through the paintings of Vincent van Gogh
Vincent Van Gogh: Portrait of an Artist
Vincent Van Gogh (Art Profiles for Kids)
Make a Masterpiece — Van Gogh's Starry Night (Dover Little Activity Books)
Related Posts:

Edgar Degas (+ free art visuals!)
Claude Monet (+ free art history cards!)
Raphael and the Italian Renaissance
Blank Journal Van Gogh Starry Night: Blank Unlined, Unruled, 5 mm Dot Grid Paperback Notebook To Write In For Adults, Kids, Students, Teachers, … High (Vincent Van Gogh Paintings) (Volume 2)
Blank Sketchbook Van Gogh: Blank Sketchbook Cover by Master Painters, Large Blank Sketchbook Journal, Unlined, Unruled, Premium Design For Artists of All Levels (Most Expensive Paintings) (Volume 2)
Twelve Van Gogh Bookmarks (Dover Bookmarks)
Vincent Van Gogh – Irises: 1,000 Piece Puzzle
Blank Sketchbook Van Gogh: Blank Sketchbook Cover by Master Painters, Large Blank Sketchbook Journal, Unlined, Unruled, Premium Design For Artists of All Levels (Most Expensive Paintings) (Volume 1)
Save